Yeah friends, I have been cheated by my four college friends. Oh no, why I am calling them friends, it is better to have enemies in place of such friends. I lost almost 32 thousand rupees (almost 800 dollars) due to these cheaters. Now they are trying to use me to cheat other friends in our coterie. But enough is enough, I will not let them make innocent people fool. The time has come to disclose their secret to the world. Hold on, I will tell the complete set of incidents that took place and ultimately caused me big financial loss. Actually these fraud people are maintaining a big network in Bangalore, Pune, Chennai, Hyderabad and other big cities of India. You may have read my one of the articles of QuestNet. On 9th Feb, I was emotionally blackmailed, physically and mentally tortured to become its member. I will never forget that rainy day in Bangalore when Shayam, Ravi and Deepak from Chennai came to Bangalore with a fixed target in their mind. What was that target ? To pressurize me by showing fake cheques, giving wrong information so that one more Prospect will become the IR of Quest. My other friend, Asmit who couldn't manage to come told me that he was earning good money in this business. I think everything has become messed up and confusing so let us proceed step by step. These are the steps and master plan that these four people and almost every quest member is following after getting into the greed of making quick money.
So Shayam, Ravi, Ashmit and Deepak just followed these steps and convinced me to become the QuestNet member. So now big question, what they earned from that ? Nothing, just nothing. However they spoiled their relationship with me. Do you know what Deepak is doing, he is using a cheque of some other member of the QuestNet (Upline member — The members in the chain above a particular person are called uplines.)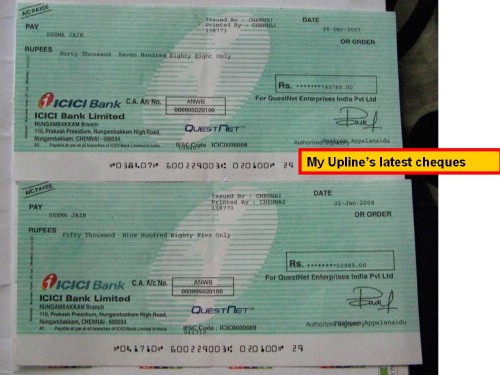 These people are using this cheque and saying their friends that "Seema Jain is mother of Deepak and Deepak is earning lakhs of rupees per month". So all the software professionals beware Deepak may approach you with such cheques. Even Shayam is using this cheque in Bangalore to increase the members of QuestNet.
I always consider these four persons as my good friends. But I will never forget their statements regarding QuestNet. So let's see what they told me ?
Shayam – Yaar tagra business hia, I want to purchase a flat in hyderabad and with the salary of Accenture it is not possible in 2-3 years so I have joined Quest. Believe me, Abhishek since you are my best friend that's why I am sharing these secrets with you. We will work together and become millionaires. See Deepak's cheque of 50 thousand rupees has just come this week.
Ravi – You know me from College time, I have never done any stupid thing in life. So I will strongly recommend you to become its member. I will put my achievements of QuestNet in my resume.
Deepak — Yaar, I have got the goal of my life. I can earn millions here and see I am earning. This chain marketing experience will help me to get admission in good B school.
Asmit – Don't complain me after some time that I didn't tell you the secret of making money. See I have earned 20000 within a month.
End of the story :: What I lost due to Quest ?
Shyam, Ravi, Ashmit, Deepak have lost my friendship, now I will never wish anything good for them, at least in this life.
I have lost my faith on my these college friends. Whenever I will remember the college days, all these events will be flashed before my eyes that what happened with me after leaving the college. Even I am not going in Convocation of my college on coming 11th April.
Instead of telling the lie and showing the fake cheques, had they told me the fact, I would have given 30k rupees without any question. But everything is finished now.
I have to show their real face infront of the world.
Now I will share a true story of another victim which I got through a chain mail.
First of all I had been invited by one of my office colleague to come for the meeting his friends. He asked me to come on Saturday (Holiday) to meet his friends and to have some fun there. I think he invited me because he wanted me to push him up by joining as his down line. I blindly trusted him and went with him. He took me one small office maintained by his up lines and asked me to wait for a while to introduce me all. After a bit time later, I was introduced to all where most of are all working in software industry.
The occasion was called 'A business Presentation'. I was taken to a closed room; some guys came to me and asked all my personal details including family details also. They noted all my financial burdens to their mind and started presentation. I took my time to listen, bringing with me a pen and a paper just to make sure that I don't miss even a single point from the presenters. Just before the presentation started, I looked around to see if there was anybody I know. I couldn't find anyone I know, other than my colleague. We were a group of about twenty and I wasn't expecting to see a lot of people that I know. Instantly, the element of trust started to build up in my mind. Eventually the presentation started.
Wow, a talkative & smart enough guy sat in front of me to present a business, guy from Software Industry who had made lakhs of rupees in the shortest time imaginable. The introducer went on to tell me the names of those who had already joined the QuestNet community from the locals, himself included. During this time, my mind was off because I was looking forward to the real business idea. The credits for the idea (the company) and the presenter were just beyond human imagination, it appeared as if we had reached an all time solution to our financial problems.
The moment of truth came and the presentation started. 'I'm so and so, from a reputed IT organization and have done A, B, C, to no avail. Bla, bla, bla,…' Worth noting is that all other products and services were discussed, but special emphasis was made on the mesmerizing me. During the presentation, the trap lays are:
1. They identified that I am very much fresh to this kind of network business and its concept. They tried to take an advantage with my weakness and successes finally. And they (top leaders, smart, power and public speakers like Anuradha, Nagaraj, Sridhar…etc) started the Business presentation and I trusted them because the main reason I Trust the person who was introduced me to them is my colleague cum friend but he also blind and don't know the reality. It is a logical method which they will try to bring us into business.
2. They made me a dream. (You should dream, without dreams then there is no future) and told me the importance of change in life. Compared with many successful personalities like Infosys Narayana Murthy, Reliance Ambanies etc. (If you don't accept the change, You will not get success in my life and if you keep continue the same work and routine activities, there is no way to reach highest positions in life…etc) By the way they tried me to put my concentration upon them to get into this loop. And they sold my own dream to me as a gold numismatic valued item and weekly income.
3. They made me believe the credibility of the company from showing cheques, showing coins, showing the customer list of the company (bodies like WHO, World Olympic committee, Vatican city and Pope etc. This is true but the tie ups carried between the GQ and these bodies were not network marketing)…through reputed people in my own country, neibourhood and specially the company I work for. They showed me a false team spirit which they said they work as a huge family, huge team and doing this to help people (but reality is the members join later in this team is always jealous about the people on top). They showed me cheques they earn and made me feel like if I not join this I'll be left behind.
4. They said it's a global business and it is running all over world. It is legal and accepted all over world and comparatively no other business is there like to earn money fast.
5. They let me to believe it is only the way I can earn fast by investing Rs 32,200 + Rs 460 /- only once and I can get the income for 2 generations regularly on weekly basis.
6. And they let me to believe that I can get the numismatic value to my product after few months apart from earning weekly wise income ranging form Rs 11,500 to Rs 5, 75,000 per week. And they believed me that I can get what ever I dream for through Questnet.
7. Next I was told about what are the needful things to do to join with them. They said first I need to get registration & purchase a product from list of products. I have chosen the gold coin for Konark Sun temple. Then I was completely unaware of its worth and weight. Even I didn't have the thought to ask for the same as I was in inspired mood.
8. After completion of presentation, I was asked how the business plan is and I replied it is very good as I new to this kind of businesses.
9. Immediately I was told about investments for registration & product details. And asked me how is the investments. I just then replied too much to afford it is. After they asked me what are the credit cards I am holding then. I told only one credit card I am using that too very urgent case only. Then the presenter asked my details like name, address, some account details like Pan Card etc.
10. After they took me to Lunch and offered me free lunch and then took me the same place to registration. They done all my registration with the details I provided earlier and finally asked my credit card details. I was then thinking once again and tried to get suggestions from friends. When I tried to call some of my friends, they asked me it is an opportunity I am missing if I call to my friends. And they didn't give me an opportunity to get arise a second thought in my mind. It was totally blocked by their words and inspirations.
11. I was totally then in mesmerized & inspired mood and unconsciously given my card to that team. They did my registration. After completion of registration, all came to me and wished me as "welcome to quest family".
12. Registration was completed and every one was happy. They took me to another room and explained me what are the does and don't. In the do and don't, they told the ways to get the members to presentation.
13. In the "Does & Don't" section, they instructed me to get my friends, relatives, colleagues to the presentation without tell them first about company and its process. I just have to invite them there as telling meeting friends or having party etc.
14. Once I get them to the local office where usually presentations going, they once again repeat the process same to the new members also. It is a continues process to get the people join and invest their money as I was.
After me joined, They conducted conferences like VCon, Recom, Mouna (I have been to all these several times) by the people like Padma, Anuradha, Shabarinath etc. come these and they use powerful brain storming tools to change the minds of people to go ahead with this business…but they be careful not to use the work GQ in these seminars. These training are good in away because it will make you a good human being and make the way think different but these people use these for wrong purposes. I.e. To get the new members into the business.
Here ends this true story.
So before joining QuestNet, please read this article. I am confident, after this you will never like to hear the name of this fraud business. QuestNet is graveyard of friendship, please spread this word and give link to this articles so as to protect innocent persons from QuestNet.
Source: abhisays.com ( http://abhisays.com/ideas-and-thoughts/questnet-the-graveyard-of-friendship.html )